14 Creative Logo Designs for Web Developers
A good logo design is of great significance for a company which symbolizes the culture and spirit of the enterprise. An impressive and meaningful logo can brand your product or business in a much better way. To make cool logo designsusually needs professional designing skills which costs much time and money. In fact, some logo designing tools can help you out in minutes, such as Logo Maker.
Logo Faves takes pride in introducing some of the best talents in the world of logo design by bringing them together and turning the spotlight on their work.
Logotalkz is a freshly hatched logo design gallery. Its purpose is to showcase designer's work and become a neat and huge logo collection that its every entry is a must see.
Logo Heroes is a logo inspiration gallery that feature the best creative logos around the web
Typebased is a gallery showcasing the best and brightest typographic logos from designers all over the world. Proper use of type is essential to good logo design. When a designer is able to create a great logo based solely on type they've really done something inspiring. – Note: At this present time the site Typebased is currently down
The Design Inspiration is created by a group of designers who are seeking various design inspiration every day.  To make every designer's life easier, we decided to feature the best logos, illustrations, websites, photos and patterns from the most talented designers from all around the world.
Logospire is a logo gallery. where you can sign up for an free account and rate logos from 1 to 5 stars, 5 being the best score. The best logos will float up to the top of the Rising and Popular pages. and featured logo are hand selected by the moderator.
Creattica is a gallery of great design and inspirational imagery. Anyone can submit their work for consideration and voting on items is open to one and all. The best work is accepted and featured in the gallery
Brands of the World is the home for the largest library of freely downloadable vector logos, yearly logo awards celebrating the best identities and a logo critique community.
LogoFury is a logo design gallery that provides an constantly updated source of logo design ideas and inspirationing.
Logo Galleria collects and showcase the designs and works of independent logo artists will inspire and motivate others to create and develop new and fresh logo designs either for the web or for print.
Logopond has a great gallery of logo designs to help you get inspired. Browse through the work of others and even upload your own designs to share with the world!
Logo Moose is an logo inspiration community showcasing the very best logos from professional logo designers worldwide. We have a featured logo design gallery and a pending logo gallery. Both filled with the most awesome and greatest logos.
Logofi was built to inspire designers and other creative people. Hopefully, we had made your creative juices flow and motivated you to try something different because designing is exploring.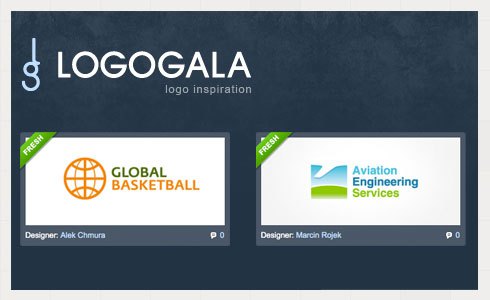 LogoGala aims to be an outstanding resource for logo inspiration and will be showcasing fantastic designs in the gallery for your viewing pleasure. Let's get those creative juices flowing again!
Originally posted 2014-08-03 18:55:08.